Workplace furniture design trends will often change year on year and tend to focus on enhancing productivity of employees. We have gathered some of the top trends for 2022 to help inspire your office glow up.
1. Designing to support collaboration
Offices should seek to inspire employees and a staple way of doing this is by creating an environment that allows for collaborative thinking and working. We recognise that Hybrid Working is in full force meaning that whilst some employees will work in the office 5 days a week, there may be some who don't come in as frequently but when they do, they should be able to do so with ease. By creating an environment with multiple workstations to support a number working activities a seamless hybrid working experience is more likely. Focal points such as a lounge area are a great way to support team spirit and spark informal creativity and collaboration.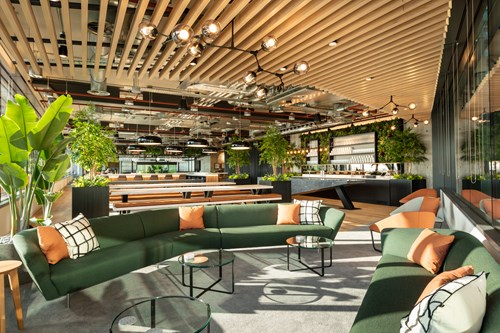 2. Home comforts in the office
On the topic of lounge areas, we have noticed soft seating to be a huge request for projects this year. This has most definitely derived from the large amount of time spent working at home over the past few years, and we aren't mad about it. Who wouldn't want a casual coffee and catch-up meetings on a beautiful bespoke piece of soft seating in the workplace?
3. Biophilia in the Workplace
I'm sure we are all aware that plants in the workspace have proven positive impacts on employee productivity and wellbeing. However, a potted plant here and there in a large workspace isn't really going to make the cut! We have really enjoyed exploring creative ways of incorporating larger biophilic elements to the workplace. A planter incorporated with a locker unit for example is a super space effective way of bringing in the biophilia.
4. Office Flexibility
Hybrid working is one way of looking at flexibility however it is important to consider the flexibility of the physical workplace. 2022 will be all about creating a space that accommodates a wide range of working preferences, a space that seeks to empower its employees is the goal. Height adjustable desks, meeting pods, lounges, spaces for focus and collaboration are all good examples of how to incorporate flexibility within the physical workspace to create an Agile working environment.
Check out our recent blog 'How furniture can boost your hybrid working experience'