Sustainability and innovation are at the forefront of everything that we do, so when we heard the news that Frovi had just launched their Bamboo Shelving Unit, we knew it would be the perfect addition to Buckingham Green, the ultimate mix of sustainability, innovation and luxury. We got inventive to create a future-proofed, Tenant-Ready™ space for London & Oriental like no other.
The Frovi Bamboo Unit, in focus at London & Oriental
We caught up with Matthew Coules, lead product designer, to find out everything you need to know about their latest, innovative and sustainable product launch. 
Matthew Coules, Product Designer of the Frovi Bamboo Unit
Where did the inspiration for the Frovi Bamboo Unit come from?
Here at Frovi, we spend a lot of time researching how spaces are designed and created, which informs us on the products we are developing. Bamboo was inspired from a requirement to offer a system that can be used to zone and divide a whole raft of different types of spaces - using environmentally conscious materials where possible.
Talk us through the design process making this piece?
So we sat down and did all of the usual stuff – market research, mood boards, design brief etc.. But our first idea was pretty much the system as it is now, our first concept renders are only slightly different to the finished product. It was more of a mathematical process that lead the design process. It took us a long time to work out spacings and how it would all fit together while still performing as a functional piece of furniture. We wanted to use only a handful of components made with environmentally conscious materials to achieve a magnitude of things, and not compromising on that ethos is where the 'design' lies in this system.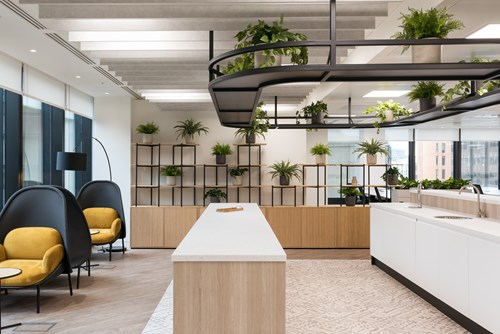 The Frovi Bamboo Unit is completely adaptable to suit any tenants needs
What makes it unique? What's it's USP?
Made with sustainable materials that can help contribute to the WELL Building Standard accreditation
Unique
Available in a huge selection of colours
You can configure it online
Easy to build
What makes it sustainable and eco-friendly?
Each material used in the system has been considered and deliberated over to try and achieve the most 'environmentally conscious' end product within reason. The shelves and cupboards are all made from side pressed bamboo which is carbon neutral and one of the most sustainable wood substitute materials available. The plastic joining connectors are made from 100% recycled nylon (PA6). The powder coating we us on all of our steel products is a more eco friendly process and is baked at a lower temperature.
The main objective was to replace the materials usually used on this type of product with new eco friendly ones that perform just as well or even better.
 What makes it innovative?
The whole system is designed using a triangular frame which is repeated and rotated to accommodate all variables imaginable. Almost all other products on the market use a box/grid like design and it was key to us that we were to be different. The result of this is a completely different looking system with a 'staggered' random appearance. These frames are held together with our patented plastic connector which can be hammered in with a wooden mallet (which we also supply), making assembly extremely quick and easy to do.

Take a walk around Buckingham Green, the Tenant-Ready™ space for London & Oriental
Why is this product perfect for a future-proofed office space?
There are several reasons that Bamboo is the perfect product for a post-COVID world and new office design. It is completely versatile, can be re-configured easily or used creatively to divide and zone areas - which is something that is becoming more prevalent.
The materials used also make it a great choice for the future, especially with the rise of accreditations like WELL. Bamboo (and all of our products) have an SCS advantage gold certificate meaning that achieving a healthy and green building is easily accessible to all, and Bamboo has also passed Level 2 testing (BS EN 16121 : 2013).
Take a look inside London & Oriental here.